Caan Berry is a full-time trader on Betfair, here he explains what exchange trading is, how it works and where you can get started along with some useful pointers…
Exchanges confuse most of the betting public, but bring a great deal of value to users.
It's not as complicated as you may think to start trading bets. By the end of this article you should have a clearer understanding on how it works, where the opportunity is and what to do about it.
What is exchange trading?
Trading the exchange is much like cashing out, except the sole objective is to place a bet at a value price in order to win money when the price moves. Making profit from an invaluable price in the process.
It's a near impossible task to be correct every time, the important part is to find a strategy or advantage over the market that is consistent in the long-term.
Unlike a traditional sports book, Betfair's exchange gives the end-user the chance to match and take other players bets. Meaning you can either 'back' (like a traditional bet to win) or 'lay' (take another exchange users bet).
Because of this, exchange price are often more attractive than a traditional bookmaker, especially at higher prices.
How exactly does it work?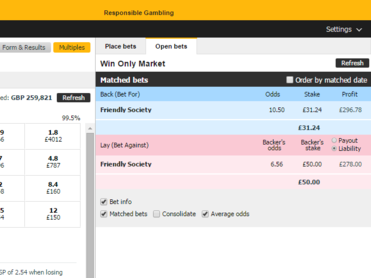 If you enlarge the image above you will see there are two bets, on the same selection, at different prices.
The images show a small but successful trade because I correctly predicted the price would move from 6.56 to 10.0. If the price had moved in the opposite direction I would have had to close for a negative figure.
Below each selection is the projected profit or loss should that horse go on to win the race. It could however, have been used as a free bet.
To understand how the £18.76 was achieved we need to look at the bets that were placed.
If Friendly Society is to win;
Our Back bet wins £296.78 but our Lay bet loses £278.00 the difference being £18.78 profit.
If Friendly Society is to lose;
Our Lay bet wins £50 but our Back bet loses £31.24, the difference being £18.76 profit.
So as you can see, we win a minimum of £18.76 either way.
All of this was achieved before the start of the race, although you can achieve results like this in-play too – on any sport.
How can you win consistently?
To win on a regular basis you will need to find ways to predict the price movements, be it short or longer term. This is often referred to as an 'edge' by traders.
Here are a couple of categories they may fall under;
Time related – This often seems too good to be true, although it's not. You just have to be fast to react when the situation changes.
For example; Each Saturday afternoon, horse racing is aired on multiple channels. The viewing audience will always make snap decisions based upon the information presented to them. But some channels may be several seconds behind.
So when something drastic happens that affects prices within the market, those several seconds ahead have a change to snatch a profit from the market.
It's worth noting; there's a lot of competition with time related edges.
Over and under reactions – Human behaviour is rarely linear, if you've ever looked at a Betfair price chart you'll know this. This is great for exchange traders as; each time the price deviates from its true position there's potential value on offer.
For example; in 2014 Ruby Walsh damaged his wrist at Cheltenham, as a leading jockey in the public eye the following markets reacted heavily (his following rides drifted). It turned out he was in fact fine, the market had over-reacted.
Market Behaviour – Similarly to over and under-reactions, market behaviour follows regular patterns. The universal laws of supply and demand ensure this. This is makes it possible to trade most markets on Belfair's exchange with limited knowledge of the sport.
Discovering edges around market behaviour bring huge upside potential, and are often more regular than you think. Understanding how the market functions on a deeper level makes this possible for those that are willing to spend the time to research and review market data.
Are there tools that can help?
There are a number of tools to assist your trading available on the Betfair Apps Directory. Personally I use the Geeks Toy, this allows a number of different features such as one-click betting, advanced charting and full market depth.
Having the additional information is an advantage as it allows me to make more informed decisions. Also the one-click betting gives me a small speed advantage over anyone placing the bets elsewhere.
Other benefits include; live data streaming, instant price refresh, stop-loss functions, advanced charting and full market depth.
If you are to attempt trading the markets it's highly advisable you have some kind of software at your disposal.
Where are the best resources to learn more?
Learning to understand what's going on is important to avoid unnecessary losses and increase earning potential.
Focusing on one small aspect of trading the markets, within one sport at a time is often a good idea. For example, trading the markets prior to the start in horse racing is very different to tennis or football.
Some markets and sports are more erratic than others although edges often transfer between sports. To learn more about making money from the markets visit Betfair learning and view as much video content as possible on YouTube.
*For a selection of Betting Apps for Betfair.com please see the Betfair App Directory.